First of all, a warm welcome to the renewed recue.net ! As the little info section there up in the header describes, this little blog-ish kind of site is put up for sharing all things interesting with you. Of course it serves also as the info hub for everything related to recue, but not everything has to have something to do with me does it?!
Let's kick things off with some "sound-design" (always a nice pretentious term) studio wankery. At the moment there seems to be a craving for that lofi retro sound. Everyone is trying to get rid of the clean digital output of VST's and digital synths by adding another VST's to their fx-chains that simulate analog gear.. or by purchasing analog gear that costs an arm and a leg. Here is a trick that costs about 10,- euros and looks way cooler than any VST!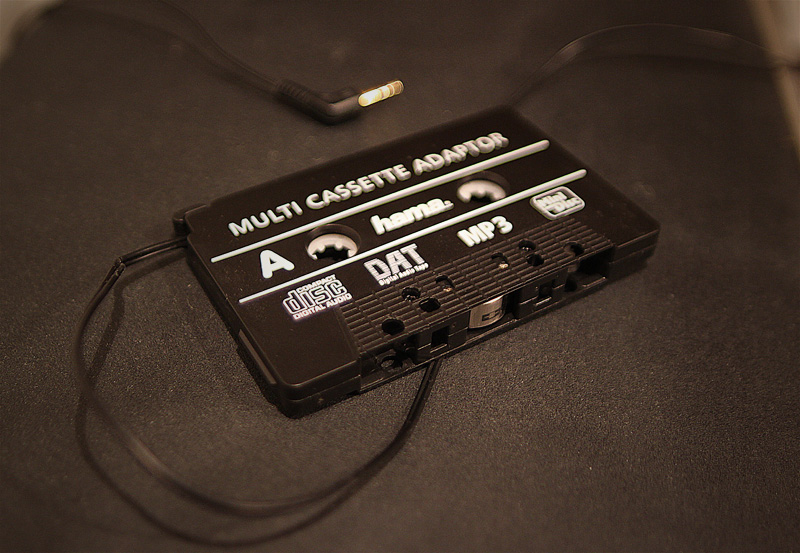 Some time ago we were laughing with my brother as we noticed that a gear manufacturer had released a rack unit that included a tape head and you could route audio through it to "add that analog warmth". The cost of the unit was thousands of dollars and it didn't even include an actual tape. I've always been under the impression that tape-compression is introduced by the tape itself and not the head.. so of course it had to be tested with a real tape player! The thing is, you don't actually have to record the audio to a tape and bounce it back or anything like that. Just go and purchase one of those cheap tape-to-CD-adapters used for old car stereos and route the audio through that. It's as simple as that! Naturally you also need a tape deck… We went and stole the old cool brushed aluminum tape deck with AWESOME VU-METERS lying in our parent's basement which we played with as kids.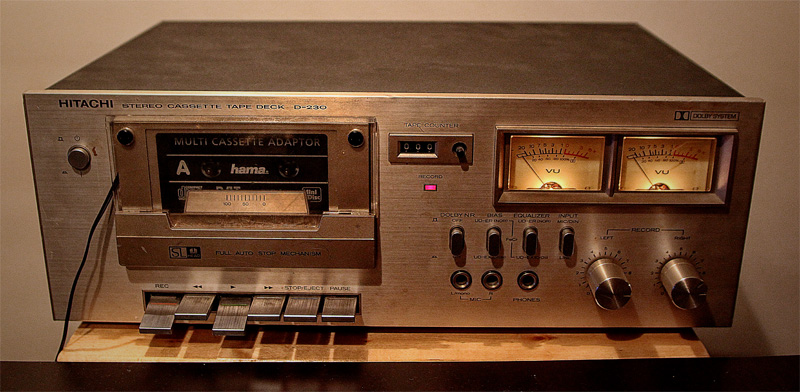 The results are actually surprisingly nice sounding (depends on what you're after). Of course the character of the sound completely depends on the components of the tape deck you use; the condition of the tape heads, connectors, mic pre's etc. The sound is far from hi-fi, so if you're after that, just go purchase a real reel-to-reel unit. In the case of Hitachi D-230 I use, there are a couple of different options for obtaining a different sound. The audio can be just played back through the tape, but it can also be fed through the line-in's, "recorded" to the tape capturing it's output. Both of the methods give actually quite a different sound. With the former method you can get a moderate crunch with a rather clean sound. With the latter, you get loads of more noise, but also A LOT more distortion and a nice pumping compression when pushed. A third option is to use the mic pre's and crank them up for some extreme clipping.. Ok, what am I babbling, let's hear it in action!

The video uses the "playback" through the deck with the clean crunch, but with the more aggressive settings you can also get some interesting results:

Liking how the VU's are smashed to max on this one! If someone for some weird reason wants to download the audio in better quality for these. Knock yourself out.
Audio clip: Adobe Flash Player (version 9 or above) is required to play this audio clip. Download the latest version here. You also need to have JavaScript enabled in your browser.
download
Audio clip: Adobe Flash Player (version 9 or above) is required to play this audio clip. Download the latest version here. You also need to have JavaScript enabled in your browser.
download
Oh, the video is titled "vol 1" and that would imply there is more coming… f*ck!

PS. If you are like me and enjoy tapes that actually include some music, you can get one right over here (also a FREE MP3 DOWNLOAD AVAILABLE OMG!)